Posted by devikadhruva in : Uncategorized , trackback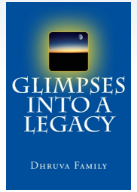 Available at:
https://www.amazon.com/dp/1539655407/ref=rdr_ext_tmb
and/or
https://www.createspace.com/6661086
The family is a delicate web of relationships. It is our own private world with its joys and sorrows, hopes and fears. It is the whole world in microcosm. This book provides the words for moments of memory and an art of hearts. It explores the relationships with parents and grand-parents.  These glimpses will  give new insights of legacy into our families for each new and future generations.                                                                                 
This English Book has few Gujarati scanned pages also.